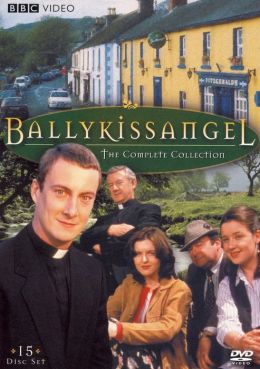 I meant to post this before St. Patrick's Day, but was having computer trouble...
I like to focus a bit on Ireland in March, for the obvious reason. Plus, I've got Irish blood in me from three grandparents, making me more Irish than any other ethnicity by 1/8. So, anything Irish catches my attention. (I'm also Norwegian, Dutch, German, French, and Welsh, but I digress.)
I don't remember how I found out about
Ballykissangel
(image above is from
this
site). This is a BBC television series that went on for six seasons from 1996-2001. I have watched through season three, and the first episode of season four.
If you enjoy Game of Thrones, you might want to stop right here. Let me just say, I watched the very first episode of GOT, and afterwards I felt like I had been doing stomach crunches the whole time (I wish I had), from clenching my gut at all the violence, etc., etc. I was interested in the story, and considered watching episode two, but decided not to put myself through the experience again. So, if you can relate (and if you watch GOT, I concede you have a stronger stomach than I, and that is fine by me), please continue on.
BallyK is about life in a small Irish town. A new priest is sent to the parish, a young English priest, and it goes from there. The series is delightful. It can be funny, serious, lighthearted, troublesome. The storyline moves right along and you come to know the characters (played by actors who look like
real people
, by the way!) and believe this place might actually exist.
In fact, it does. Ballykissangel is mostly filmed in
Avoca
, Ireland, which became quite the tourist destination for fans. What I like most about the series is that it takes you someplace and immerses you in it--you get to live in a little Irish town for an hour at a time.
What have you been watching?